It's not a secret that I'm obsessed with makeup, and when you can find amazing budget-friendly products at the drugstore, it's like WAH-BAM! LIFE IS AWESOME!
So since I know that not everyone wants to devote a portion of their life earnings to their makeup collection like I do, I thought I'd quickly showcase a few of my more cost-effective favorites. Below I am laying out a FULL face of makeup for you for UNDER $45! And everything can be found at your local drugstore...you can thank me later. (side note: prices listed were from sites like drugstore.com, walgreens.com and cvs.com...prices will vary based on your location).
FOUNDATION: Covergirl 3 in 1 - $9.47
This is a great coverage foundation that doesn't come off heavy on your skin. I also find that it lasts a long time and comes in a wide variety of shades. PLUS it has a pump...which is an instant +10 points on my scale.
UNDER EYE BRIGHTENER/CONCEALER - Maybelline Dream Lumi Touch - $6.44
Because I have awful dark circles, I use this one on TOP of my corrector, but I think for most people it would provide enough coverage for solo use. It is creamy and I really love how it blends out. I prefer to use it in the shade Radiant which is slightly salmon (helps with the circles) and the lighter shade just brightens everything up. Apply in a V shape under the eyes.
POWDER: Rimmel Stay Matte - $3.97
This powder helps make your foundation and concealer stay in place, and I don't find that it causes that overly-powdery look that so many of us fear. It's also great for those with oilier complexions who need the help of a powder to keep the shine at bay.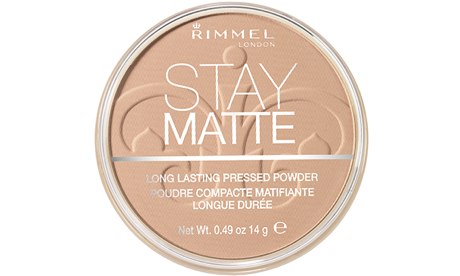 BRONZER: NYC Sunny - $2.79
Yep. NYC. I was just as surprised as you are! The color is not too orange and not too muddy. It is great for summer to warm up the skin!
BLUSH: Wet N Wild Blush - $2.99
Wet N Wild is one of the biggest surprises when it comes to great drugstore brands. Their blushes are SO pigmented (use sparingly!) and the colors are gorgeous. I've been wearing Pearlescent Pink for about a month straight.
MASCARA: Covergirl Clump Crusher - $6.30
The name does not lie. You will NOT get clumpy lashes with this mascara! I use the waterproof formula, and it gives a beautiful, natural look to your lashes. Obsessed.
EYESHADOW: Wet N Wild - Comfort Zone - $4.68
Get insanely gorgeous pigmentation in 8 shades with this palette. They are the star of the Wet N Wild line, in my opinion. The Comfort Zone palette is my favorite for the more neutral shades. There are quite a few MAC dupes in this collection as well.
LIPS: Maybelline Color Whisper - $4.97
I really enjoy these because not only are the shades beautiful (Rose of Attraction is my favorite), but they are super moisturizing and has build-able color.
EYELINER: Jordana Fabuliner - $2.99
For an easy liquid application, this is the liner for you. The felt tip makes it easy to control and it applies very evenly. Plus, you just can't beat the price. Keep in mind these are NOT waterproof.
TOTAL: $44.60
**Things I haven't included (because I don't have a drugstore fav) that I think are important
EYEBROWS!!! Please please please don't neglect to groom and fill in your brows. It completely transforms your face and instantly makes you look put together. Brows are the dark horse of the face.
PRIMER: Face primer, eye primer...they're both amazing and important if you want your makeup to last.
Pin It